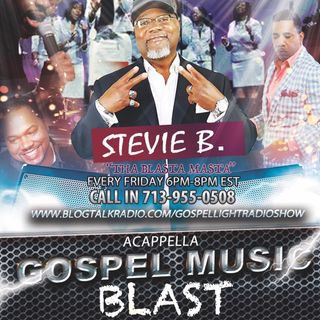 Stevie B's Media Productions (RV)
These are Recorded Versions of the LIVE shows on the Blast on Blog Talk Radio. These shows can be heard on Spotify; iHeart Radio and Deezer. Now in Beta Hi-Fi.

Stevie B. is playing the world's greatest Acappella gospel music artists. A majority of these shows will be "Album debuts and Marathon Shows; and my Top 20 Countdown Shows."

These shows will also feature Stevie B's "SONG OF THE WEEK"; "MONTHLY TRIPLE SPIN"; FUNNY BONE"; "LIVE SPOTS." Enjoy your listening experience!